Human resource management

Human resource management(HRM) is the strategic approach to the effective management of people in an organization, so that they help the business to gain a competitive advantage
Human Resources Software is used by businesses to combine numerous HR functions, such as storing employee data, employee relations, payrolls and benefits, recruitment processes, benefits administration, and record keeping
Centralized HR Operation Management
Oversee all important information for each department at a glance. Restrict visibility of sensitive information to just HR managers, or make other information public for all employees to see such as employee directory. Receive alerts for any new leave requests, allocation requests, applications, appraisals, and more.
All from a single platform

Dedicated operational modules

Employee tracking and management
Dedicated Employee Management
The dedicated employee management module will help you with the storage of employee information and details of operations in the company
Store employee skills and resumes

Employee personal details storage

Run onboarding and offboarding operations
Attendance Management
The employee leaves, time offs and attendance can be managed by the dedicated modules available
Attendance register with biometric devices

Time off and employee vacation management

Track employee work time with Timesheet
Payroll Management and Appraisal
Bring in a structure to the employee salary payments and the appraisal operations, where the employees can request for the appraisal
Payroll based on the employee attendance

Define the salary structure at the time employee onboarding

Employee appraisal request

Periodical employee evaluation
Recruit
top talents
Streamline your hiring process.
Set up a job board to post open positions in just a few clicks and easily keep track of submitted applications. Oversee and manage your applicant pipeline and integrate Odoo Survey to create a screening questionnaire which automatically associates with the candidate record.
Efficient Referral Management System
Run the employee referral for the new opening to be functioning systematically
Share job openings with your friends

Share jobs via Email, or social media

Earn points for your referral

Track the stages of the referral recruitment
Streamlined
expense
management
Get expenses updated and approved fast.
Employees can easily submit and justify expenses. Managers can review all expenses and either approve or reject individual requests as needed. Once approved, expenses are immediately updated in Odoo Accounting.
Advanced Reporting
HR bases reports play a key role in management operations and Odoo lets you develop advanced analytical reports
Recruitment analysis reports

Report on employee contract

Attendance report

Time off analysis report
Boost engagement with
social tools
Improve communication between employees and motivate them through rewards.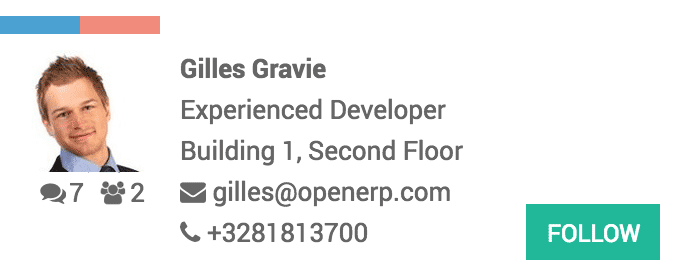 Enterprise social network
Let employees collaborate across departments, locations, and Odoo modules by interacting in real-time with live chat, share knowledge and best practices, follow specific people or documents to stay informed, as well as joining interest groups to share expertise and encourage teamwork.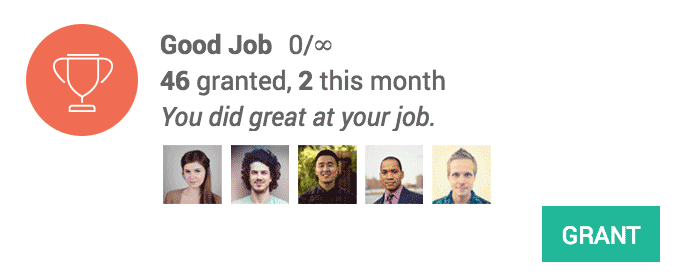 Gamification
Inspire employees with challenges, goals, and rewards. Design your own targets, define clear objectives, provide real-time feedback and tangible results. Showcase the top performers for each team and publicly recognize employee and team accomplishments.
Fully
integrated

with other

Odoo Apps
50,000+ companies run Odoo to grow their businesses.
Join us and make your company a better place.